Gant de manutention protection anticoupure finition polyuréthane ALPHA 5

50 years
of experience


French
know-how


Response within
24 hours
Gant de manutention protection anticoupure finition polyuréthane ALPHA 5
Un excellent compromis entre dextérité et protection plébiscité par les utilisateurs.
Protection à la coupure TDM niveau C 14,4N

Sans fibre de verre

L'enduction polyuréthane apporte grip et protection
ADDITIONAL INFORMATION
Download the product sheet
Norms: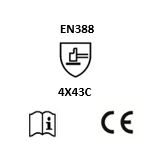 Description
Gant sans couture avec enduction polyuréthane sur la paume et le bout des doigts, coloris noir.
Composé de fibres techniques HPPE et  acier  résistantes à la coupure, couleur gris chiné. Sans fibre de verre.
Gant de protection contre les risques mécaniques.
PPE certification
Ce produit est conforme aux exigences  du règlement (EU) 2016/425.
APPLICATIONS
Logistics
Customs code : 6116 10 20
Product code : PF087105000
Storage and maintenance instructions
Conserver les produits dans l'emballage d'origine, à température et humidité ordinaires, dans un local couvert et aéré. Nettoyer en surface avec un chiffon humide. Sécher à température ambiante. Pensez à trier, valoriser et recycler les EPI en fin de vie.  
Standards
EN 420 - 5

EN 388 - 4X43C

Catégorie 2